HEAVY-DUTY CARGO SLIDES FOR RESPONSE VEHICLES.
Featuring the industry's only anodized aluminum fire truck cargo slides, OnScene Solutions builds the most corrosion-resistant systems, backed by a lifetime warranty. And unlike our competitors who use metal rollers on metal glides, our Urethane wheels provide the smoothest-gliding, heavy-duty cargo slides on the market.
Four MUST-HAVE fire truck CARGO SLIDES.
Click the thumbnail image to browse these featured products, or scroll down to view ALL EIGHT available slide products.
DIFFERENCES IN OUR CARGO SLIDES AND THEIR FUNCTIONALITY
81 series

3-rail single direction
This single-direction slide extends up to 100% of its full length for easy cargo access, while the three-rail design delivers extreme cargo carrying capacity.
The 819 three-rail slide mounts under the truck body and supports 500 lbs. when extended. The greasable latch combats road and ground debris.
82 series
2-rail single direction
Without sacrificing weight capacity, this 70% extension two-rail slide features a low-profile design perfect for compartments with lower ceiling heights.
These dual-direction transverse slides are a must-have for pass-through compartments, featuring up to 1,000 lbs. of capacity and 70% extension.
For easy access to high areas, look to the 84 Series' slide-out / tilt-down design that delivers a 30-degree access angle and up to 250 lbs. of capacity.
A clone of the 81 Series but in a narrow 11.375" design, the 85 Series accommodates tall, slim compartments, as well as vertical tool boards.
This welded, NON-anodized aluminum slide provides an economical cargo system. The ultra-low profile design (at 2.75") is perfect for lower compartments.
Featuring a 500 lbs. capacity and 30-36" of downward travel, the all-new X-30 cargo lift system lowers heavy equipment in one push of a button.
shop our full lineup of cargo slide products: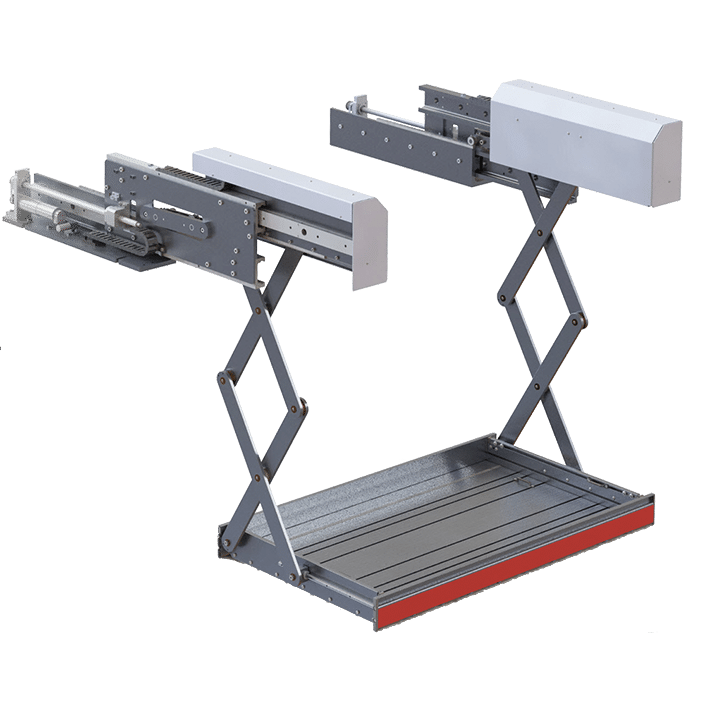 ---
WITH THE ULTIMATE CARGO LIFT SYSTEM.
Don't let work-related injuries weigh the department down. Featuring a 500-lb. capacity and 30-36" of downward travel, the all-new OnScene Solutions X-30 cargo lift system lowers heavy equipment with the push of a button, positioning gear at the ideal height for better ergonomics. Available in various sizes.
---